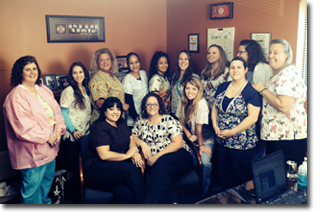 Diabetes and Endocrinology Associates, founded in June, 1974, is the largest private medical practice in Rhode Island specializing in endocrine disorders. If you're looking for an endocrinologist, here are a few reasons to consider choosing us.
Specialty care: By specializing in endocrinology we are able to offer the highest quality care that exists for people with endocrine disorders. In addition to being able to offer the benefits of a private practice, we work in connection with our Lady of Fatima hospitals and Miriam hospitals. All five doctors have academic teaching appointments at Brown University Medical School. They consistently are rated among Rhode Island's "Top Docs" by Rhode Island Monthly. Each is also a board certified endocrinologist and certified by the state of Rhode Island.
Convenience: Our main office at 100 Highland Ave., Providence is conveniently located 10 minutes from the city center and 5 minutes from Brown University. We also have satellite offices in Warwick and in Lincoln.
On-site testing: We have our own full service laboratory which performs on-site testing either before or on the day of your visit, with results available in many instances at the time of your visit. Our physicians are thus able to more quickly and accurately determine your health status. This one-stop service has been very convenient to our patients and lessens delays in receiving timely lab reports.
Education: As a certified Diabetes Outpatient Education site, we employ a registered nurse, dietician, and pharmacy consultant who offer overall diabetes education. We have continuous blood glucose monitors available. Our diatician and diabetes nurse educator are proficient in training carbohydrate counting.
Insulin pump training – We offer insulin pump training as well as support and assistance to our pump patients. Additional pumps are available to loan in case of emergency.
On-call physician: To be there for you in emergencies, a physician is on call 24 hours a day.
Consults: Our physicians are all on the staffs of Miriam and our Lady of Fatima hospitals. If you are hospitalized, our physicians will be notified, and will follow your care in the hospital.
On-Site billing: We have our own billing department and perform all billing functions in the Providence office. If you should have any questions about your claim or bill, our in-house specialists can answer your questions quickly and accurately because we have all your information on-site.